We are happy to announce that a free GPAT mock test is being conducted on 02/Feb/2014, Sunday for the benefit of pharmacy students.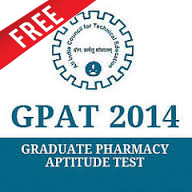 Unlike the actual test which only Final year Bpharm students can take, this free mock GPAT test can be taken by anyone right from B.Pharm 1st year to M.pharm students. This will give an idea about GPAT to all those who want to write GPAT in future also.
The test will be conducted as per AICTE pattern. There shall be 125 questions and the test duration will be of 3 hours. Each correct answer carries 4 marks while incorrect answer attracts a penalty of 1 mark. No marks will be deducted for unattempted questions.
So why wait? Make the best use of your free MOCK GPAT .
Click the button below to register
[button url="http://pharmawiki.in/free-online-gpat-2014-mock-test-registration-form/" style="glass" size="12″ center="yes"]Register here for free Mock GPAT 2014[/button]
Please note that due to limited number of test slots available we request you to register as early as possible.
Free Mock GPAT test will be provided on First come First served basis