Welcome to GPAT 2014 online Mock Test Series.
Good news last date to register extended to 27th January 2014
 (Already registered users can take the exam here. )
GPAT 2014 is being conducted online.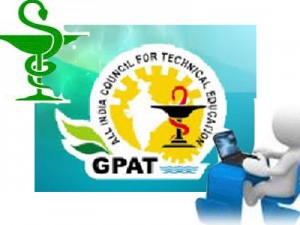 It is a national level entrance test which will facilitate admission into postgraduate courses valid all over India.
Qualifying in GPAT is a necessary condition for appearing to NIPER-JEE exam which is also an entrance exam for admission into various postgraduate courses in seven National Institute of Pharmaceutical Education and Research (NIPERs) across India (For more information on various NIPERs, click here).
A candidate will be paid scholarship of Rs. 8,000/- per month by AICTE (AICTE-Postgraduate scholarship) if he/she is admitted into any postgraduate course through valid GPAT score and proper counseling procedure.
CSIR has now recognized GPAT for admission into PhD. Some CSIR institutions through out India are considering GPAT qualified candidates. A GPAT qualified candidate interested in research can approach any a scientist working the area of his/her interests and apply during admission process. Alternatively, CSIR will release a notification twice in a year via all CSIR institutes to which candidates can apply. more…
So get ready to get top scores in GPAT by subscribing to our Online GPAT mock tests. The aim is to provide online practise to people who are not familiar with the online exam. Because preparation alone is not enough, practise is also important. The Details of our Test series are as follows
Test :
8 full length GPAT tests based on AICTE pattern
Each test contains 125 questions each carrying 4 marks. 1 mark to be deducted for every incorrect answer
So for each test Total marks: 500  and Time : 3 hours
Test dates: One new test every Sunday in January and February 2014 till the actual GPAT exam

05/01/2014, 12/01/2014, 19/01/2014, 26/01/2014, 02/02/2014, 09/02/2014, 16/02/2014 and 23/02/2014 (Click here for more details)
Time: At your convenience starting 10 AM onwards every Sunday.
Last date for registration: 15th February 2014.
Instant feedback: Immediately after every test
All India Ranking: View the score analysis and ranking which we provide after every test here
Fee:  Rs. 500/- for a complete set of eight tests.
Registration Methods
1)Click here for Debit card/Credit Card/ Internet Banking (Rs.500/-)
[button url="http://gpat.doattend.com" target="blank" style="glass" center="yes"]Online Registration[/button]
2) Cash deposit or NEFT transfer please follow the below instructions
Cash deposit at any branch of State Bank of Hyderabad
Transfer by NEFT or internet banking
Account details are as follows
Name:

C. Annapurna

Account  number: 

62319489760

IFSC Code:

SBHY0020083
State bank of Hyderabad,
Nallakunta Branch, Hyderabad
Please fill the registration form for Mock Gpat 2014 if paying by Cash deposit/ NEFT transfer by clicking here
Any problems? Call us at 0-8686918622/9494959830  or email us at [email protected] or fill online form
 More Useful information about GPAT 2014
Click here to know about the advantages of GPAT
Download GPAT syllabus from here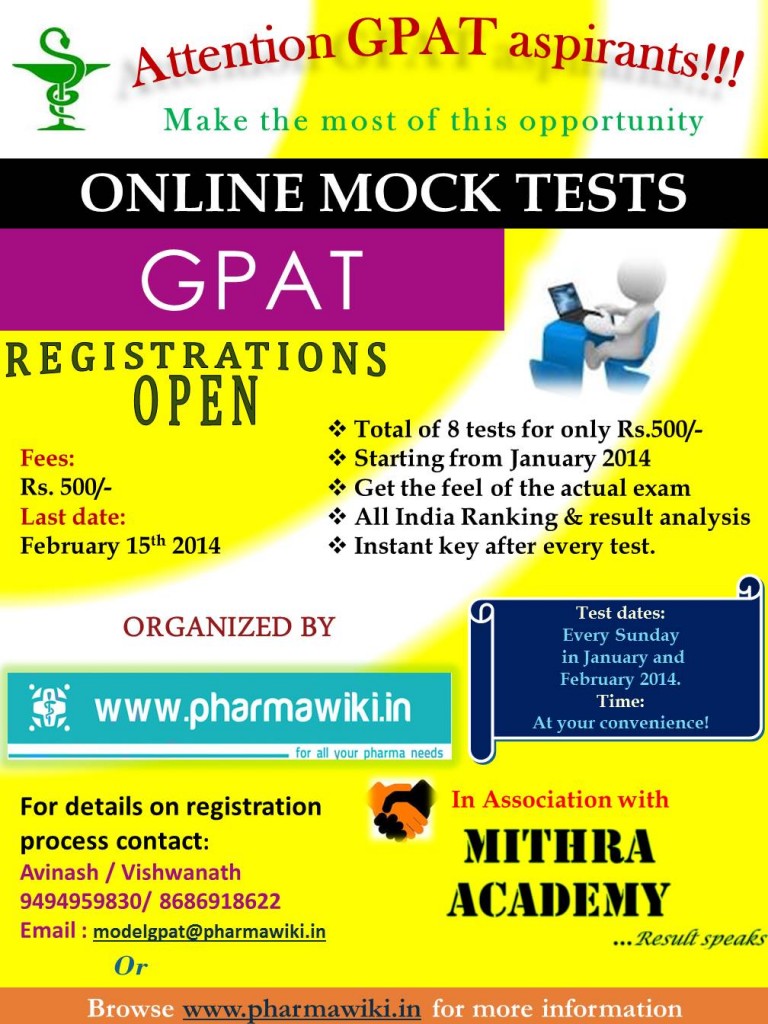 Pharmawiki:
Ever since we began our journey in December 2011, we have been working on providing guidance to students on career prospects and examinations. It is our motto to serve the profession in the best possible ways we can. To give you a feel of 'Online GPAT' we are conducting online mock tests for GPAT aspirants. We sincerely hope that our testing module will help you in understanding your weaknesses and improve on them so that you can attempt the final exam with a confident mindset. We understand that the level of difficulty of the exam has increased over the years, and to ensure that you get the same quality of questions in our tests, we are partnering with Mithra Academy (located at Hanmakonda), a pioneer in GPAT and NIPER coaching.
Mithra Academy:
Established in the year 2005, Mithra Academy has ever since maintained a consistent record of achieving top ranks in GPAT and NIPER. Our unique teaching methodologies and result oriented approach give us an edge over other institutions. Many students from previous batches have secured seats in NIPER and moved on to make a brilliant career. So if you feel that you have what it takes to crack these exams, Mithra Academy is the destination to hone your skills.
Phone: +91- 8019774117
Thanks for visiting this page. We wish you all the best for your GPAT preparation.