UPDATE click here!!!
Solved paper of GPAT Exam conducted on 06/05/2012 is now available for download in pdf format.
Currently we have uploaded the key for Series "C" of the GPAT paper… The solution to remaining series A, B, D will be uploaded shortly… UPDATED click here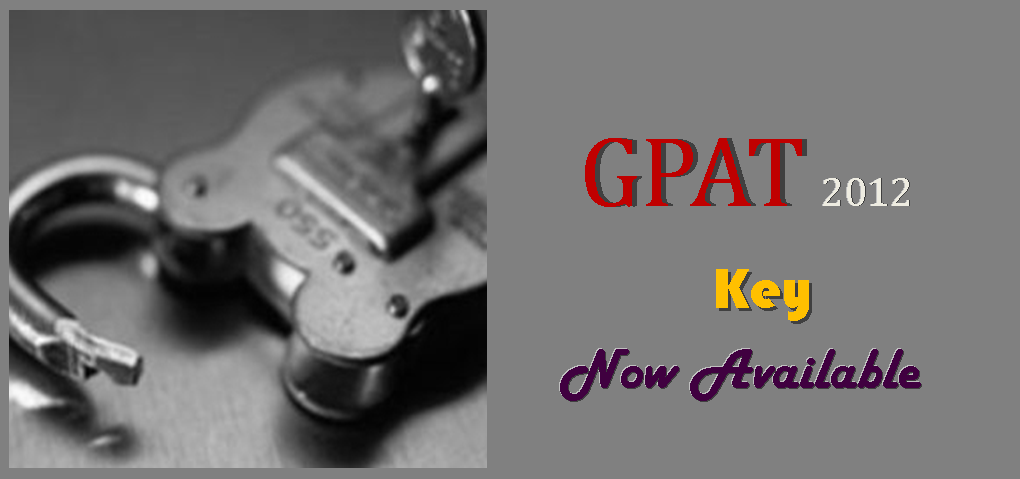 GPAT 2012  paper code C – Solved 139/150

 ( Uploaded on 7th may 2012 at 6.00 am)
GPAT-2012-Code-C-Fully solved and UPDATED key (Thanks for ur feedback!!!)
Click here or the image above to download
For official keys UPDATE click here
It is only a partial key paper. The full key will be updated as early as possible. From our survey at local GPAT centres, we heard that it was harder than the previous ones. We also found it to be typical national entrance exam.
If you have answers for the unsolved ones or corrections, post them on comments section.
Press like if this one helps you. it will motivate us to work faster and upload the remaining keys soon…
Please take the poll on the right side to know how most of the other GPAT aspirants feel about the GPAT 2012 exam.
Thanks
Cheers
All the best for your NIPER-JEE  and other exams(Get NIPER resources here)
-Team Pharmawiki