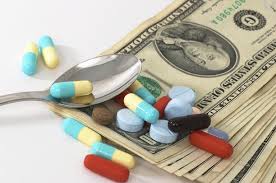 This article takes a glance at 5 top selling drugs of 2013 in India and the United States. We strongly feel that such questions may be asked in GPAT and NIPER and decided that we must provide our readers with the information of top selling drugs in two of the biggest nations where pharmaceutical products are in huge demand. This list of top selling drugs will also help our readers in gaining information about the companies producing these drugs as we are providing the links to these companies. Moreover, we advise our readers to study the pharmacological profile of these top selling drugs to get thorough knowledge.
Top selling drugs of 2013 – India
Interestingly, the list of top selling drugs in the Indian market does not feature even a single drug from domestic manufacturers. All the five top selling drugs are the once marketed by multi-national companies. This shows the successful marketing strategy employed by the MNCs to gain consumer attention in the Indian drug market.
[table id=5 /]
Top selling drugs of 2013 – U.S.
[table id=4 /]
It is quite evident that there is a stark contrast in the demands of drugs in these two countries. In India, antibiotics and cough suppressants are the top selling drugs whereas in the United States, an antipsychotic and proton pump inhibitors are in huge demand.