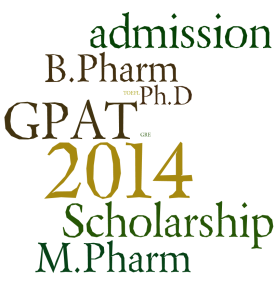 1.Q) GPAT 2014. What is it all about?
Remember the entrance exam you wrote after 12th? You missed the rank and instead of being a doctor landed up in B.Pharm. Graduate Pharmacy Aptitude Test, GPAT, is an entrance exam of same importance for your career after B.Pharmacy
2.Q) Who should write this exam?
All pharmacy graduates should write this exam. It is essential that one must QUALIFY this exam atleast once. Apart from serving as an entrance exam for M.Pharmacy admission into a top college it also helps u to get a scholarship
Mpharm
Admission into a good college
Scholarship in M.Pharm (Rs 8000*/month, a total of Rs.1.92 lakh for entire M.Pharm course)
Admission into NIPER, the apex pharmacy institutes of India needs GPAT qualified to appear its own entrance exam!
Ph.D
Many Universities consider GPAT as a must for Ph.D admissions. At sometimes a GPAT qualified candidate will be preferred to a non GPAT person
In Some universities, Ph.D entrance test may be waived off if you qualify GPAT
3.Q) I am in B.Pharm 2nd year. As per the notification I am ineligible for GPAT 2014. Isnt it?
Officially you are NOT eligible for GPAT exam. That should not prevent you from writing the exam. Most students write this exam in their B.Pharm 3rd year so as to get a feel before they give the exam in final year. However the score (Qualified/ Not Qualified) might not be useful to you. Attempt it if only want to get a feel of the exam.
4.Q) I want to fly abroad. MS in US. I don't care about GPAT. GRE's my savior.
Well that's a good decision of going abroad. We respect it. But it is suggested that you give an attempt at the GPAT also. No need to devote time away from GRE preparation but just attempt GPAT. Who knows you may want to pursue your Ph.D in India after completion of your MS.
And remember qualifying GPAT is easiest when you are in B.Pharm compared to after M.Pharm or M.S. Trust me!
5.Q) GPAT exam is online. Online is tough right?
Wrong. Based on my personal experience online exams are much easier than the offline exams. In an online exam you get more time because you don't have to waste time on bubbling circles on OMR paper.
If you are able to surf the internet and use the mouse, you have the skills required to write the GPAT exam online. However practice will help. You should have given atleast 3-5 mock tests online (not the paper based tests of your coaching test). This will help you understand the structure of online exam.
Pharmawiki is planning to conduct Model Gpat exam in the month of December. Click here to know the details
Future articles coming up on GPAT 2014
Choosing the ideal date and session for GPAT exam
Coping with the online GPAT exam. Tips and best practices