After B Pharm???? What to do after completing B Pharmacy? Is this your question? Are you in dilemma?  Don't worry we show you what all opportunities you have once you get B Pharm Consolidate. There are many Government and Private jobs for you. You can choose any of your choice and work hard to achieve it.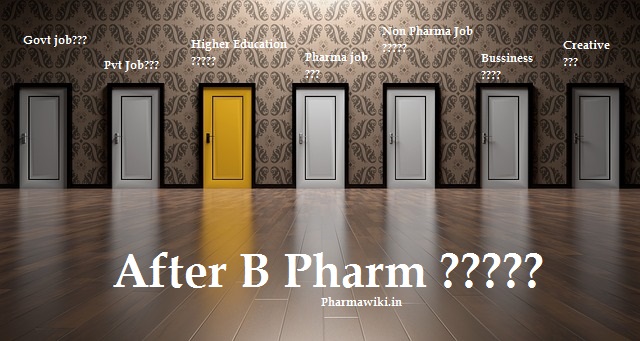 What to do After B Pharmacy????
Drug Inspector
Government Pharmacist
RRB Pharmacist
State government Pharmacist
Private Pharmacist
Pharmaceutical Marketing
Manufacturing Companies
Regulatory Affairs
Medical Underwriting
Pharmaceutial Production
Medical Transcription
Quality Control
Quality Analists
clinical trials
data analysis,
pharmacovigilance
Regulatory affairs
Other Government Jobs?
State government Jobs like Group 1 Group 2 Group 4 Services
SSC Staff seclection Commission
UPSC
Civils
State PSC
Bank jobs
HIGHER EDUCATION
Courses:
Training in clinical trials, patents, data analysis, pharmacovigilance Regulatory affairs.
M. PHARM:
M. Pharm can be done in pharmaceutics, pharmacology, pharmaceutical chemistry, clinical pharmacology, pharmacognosy, biotechnology, etc After M.Pharm pharmacists gets higher pays in production and quality control etc. You also get additional opportunities like as lecturer, in research, as medical data analyst and in promising field of pharmacovigilance.
MBA:
After B.Pharm graduates an pursue MBA from reputed institute to get management Jobs in Heath Care and Pharmaceutical Industry. Some universities offer pharma management courses also. If MBA Institute is reputed you will get good package.
.
MS:
Those who are interested in doing job in pharmaceutical companies in foreign countries can pursue Master of Science in pharmacy and related MS degrees from foreign universities. NIPER in India also provide MS Pharm Course. In India scope OF MS Pharm is similar to M. Pharm
PHD:
PHD is suitable to those who are interested in research, and professors jobs in government colleges. After PHD salaries are handsome in reputed companies and government colleges. Though After recession Job opportunities for PHD freshers are reduced like other professions.
LLB:
You can even pursue LLB to become lawyer and specialize in pharmaceutical jurisprudence, intellectual property law, patents, etc.