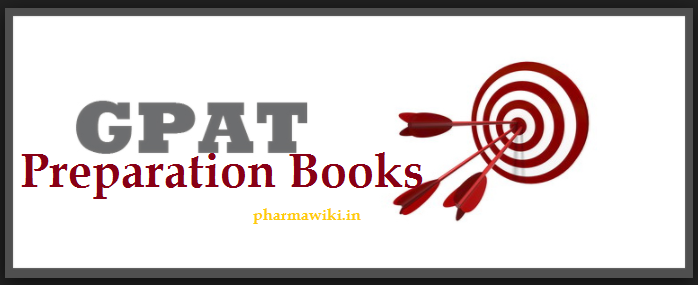 GPAT Preparation Books Subject-wise: The Graduate Pharmacy Aptitude Test is called as GPAT, which is an annual all India examination conducted by All India Council for Technical Education, New Delhi. The test is for the evaluation of Pharmacy graduates candidates seeking admission into the Masters (M. Pharm) program in recognized universities and private colleges offering Post Graduation studies in Pharmacy. The results are also used to determine eligibility of students for scholarships and other financial assistance.
It consists of Multiple Choice Questions from the subjects such as Pharmaceutics, Pharmaceutical Analysis, Pharmacognosy, Medicinal Chemistry, Biochemistry, Organic Chemistry, Pharmacology, Microbiology and Basics of Pharmaceutical Sciences. There will be emphasis on analytical chemistry as well with questions mostly from B. Pharmacy syllabus. Numerical part is also very important part of the exam and most students are prone to skip them. Generally, the numerical questions that are asked in the exam are from Pharmacokinetics, Posology. Hence it is recommended to solve numerical sums right from the B.Pharm course when one aims for GPAT. GPAT Exam is considered to be one of the most important exams so it is must for the student to do the best preparation. Students those appearing for GPAT have to study standard textbooks for good score in GPAT. For thorough study, one needs to study in details the subjects allotted. Following the syllabus of the GPAT is essential as the exam is held every year in the month of January tentatively.
The list of the study materials and books are as follows:
GPAT Books for Basics of Pharmaceutical Sciences
Health Education & Community Pharmacy: For First Year Diploma by N. S. Parmar

Remington : The Science and Practice of Pharmacy : Alfonso R Gennaro

The Theory And Practice Of Industrial Pharmacy : Lachman
GP

AT Books for

Organic Chemistry: 
By Morrison & Boyd

Advance Organic Chemistry: Reaction, Mechanism & Structure by Jerry March
GPAT Books for

Medicinal Chemistry:

 
By Wilson & Gisvold's Textbook of Organic Medicinal and Pharmaceutical Chemistry 11th Ed.
GPAT Books for Biochemistry:
Biochemistry: By Lehninger

By Satyanarayan
EBooks:
Biochemistry of Lipids, Lipoproteins and Membranes edited by J.E. Vance, Dennis E. Vance

Biochemistry and Clinical Pathology by By M. R. Chaudhari, Y. A. Kulkarni, S. B. Gokhale

Lipids: Biochemistry, Biotechnology and Health By Michael I. Gurr, John L. Harwood, Keith N
GPAT Books for Physical Chemistry:
EBooks:
Physical Chemistry by Dr. R. R. Misra

Physical Chemistry Lecture Notes by Prof. Rob Schurko R.W. Schurko, University of Windsor

Introductory Physical Chemistry bynbsp; Rob Schurko

Advanced Physical Chemistry By Carol A. Venanzi
GPAT Books for Pharmacology: 
Rang & Dale, K.D. Tripati, Goodman & Gilman.
EBooks:
Pharmacology Test Prep: 1500 USMLE-Style Questions & Answers, By Mario Babbini, Mary L. Thomas

Basic and Clinical Pharmacology 14E by Bertram G. Katzung, Anthony J. Trevor
GPAT Books for Pharmaceutics:
Pharmaceutics: The Science of Dosage Form Design by Aulton

Physical Pharmacy by Martin.

By Ansel
EBooks:
Modern Pharmaceutics by banker Rhodes
GPAT Books for Pharmaceutical Analysis:
Spectroscopy – Silverstein

Instrumental methods of Chemical Analysis – B. K. Sarma

Text Book of Pharmaceutical Analysis – K. A. Connors

Instrumental methods of Chemical Analysis – Chatwal

Analytical Chemistry Skoog's

By Dr. Ravi Shankar
GPAT Books for Microbiology:
Industrial microbiology by Cascida

Microbiology by Pelzar

Industrial microbiology by Prescott and Dunn
GPAT Books for Pharmacognosy:
Text Book of Pharmacognosy by K. Kokate

Text Book of Pharmacognosy by E. Walis

Text Book of Pharmacognosy by Treas and Evans
GPAT Books are according to the subjects, so you might have some difficulty to get the books for GPAT according to the subjects. If one wants to get admission in these courses then he/she must refer to the best GPAT preparation books and GPAT Subject-Wise Study Material. One may refer to the also refer the GPAT entrance examination books that will help as a guide and the eBooks in PDF can be downloaded too. Here we have tried our best to compile the books subject wise so that the readers don't have to put much effort and time in the searching process. Hope this information will definitely help the candidates to do the best preparation for the exam.
All the best!