Pharmaceutical-contract-manufacturing organization setup
A contract manufacturing organization (CMO) is a company that serves other companies on a contract basis to provide comprehensive services. In the pharmaceutical industry, the service ranges from drug development to drug manufacturing. Nowadays, it is also termed as contract development and manufacturing organization (CDMO), because of a comprehensive single-source provider from drug development through the commercial manufacturers. It is of help in terms of scalability and allows the major companies to focus on drug discovery and drug marketing instead. Global manufacturers are occupying a monster share of the contract manufacturing market with low-cost. Even the highest ranking service providers target a specific technology or dosage form for the promotion of end-to-end continuity. Therefore, specialization may be an effective hedge against the loss of market share. This reflects their efficiency for the outsourcing clients.
CMOs offer:
Pre-formulation

Formulation development

Stability studies

Method development

Pre-clinical and Phase I trial materials

Late-stage clinical trial materials

Formal stability, scale-up, registration batches and commercial production.
CMOs are contract manufacturers but aren't limited to these services because of their development aspect. For the pharmaceutical market, the outsourcing services providers are used in the form of CMOs and CROs- contract research organizations. In response to the international nature of the pharmaceutical niche, CMOs are called for outsourced services. 
Setup strategy
Putting up a manufacturing unit is a big challenge for a layman not having the technical know-how and idea about the market. Carrying out a good technical and market survey would be beneficial. Moreover, depending upon one's forte and the market demand the following are considered:
The ever-rising competition to be in demand as a constant cost-effective manufacturer

Regulatory compliance & Maintenance cost

Locations are selected based on Land cost, tax-free zones, accessibility to resources/transportation convenience.

Cost factor for faraway places or in government/private industrial zones.
You may choose formulation with a wide market to cover up the cost by having maximum utilization of installed pharmaceutical equipment. For people holding specialization and are sure about its actual application can create a market through the novel product/facility.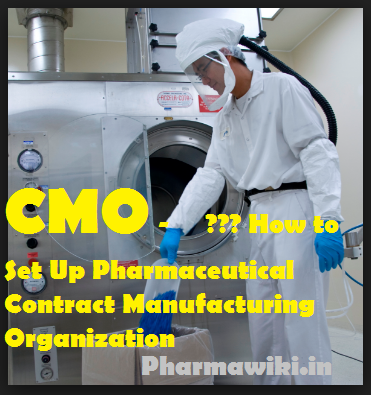 Notes
Regulatory checks are most important as its non-compliance seems untrustworthy.

Apply and comply with regulatory bodies country-wise to export products in the Indian Pharmaceutical Association website.

For Export registration, enquire the nearest Directorate General of Foreign Trade office.