General Knowledge –
1. The Drug of Novartis that is challenged in the Indian courts for the validity of Patent?
2. Fundamental rights of an Indian Citizen are ____ in number.
3. Lipitor is the brand name of which drug?
4.Pharmaceutical Patents in India are currently granted as —————— patents (product/process)
5. The Director General of World Health Organization is
a. Dr. Ala Alawan
b. Dr. Mirta Roses
c. Dr. Margaret Chan
d. Dr. Shin Young-Soo
NOTE: This is a trial pack with only 5 questions and explanations. You can expect more questions every day. We have a lot of mnemonics that will help you for your NIPER preparation. You can also send your questions by using the contact form above. From tomorrow onwards we will provide the NIPER booster packs only to registered users, so please register by clicking  here 
Answers:
1. Gleevec, Imitinab mesylate, is used in treating chronic myelogenous leukemia (CML), gastrointestinal stromal tumors (GISTs) and some other diseases. It was challenged in the MADRAS HIGH COURT on the grounds lacking NOVELTY as per Section 3(d) of Indian Patent Act. Gleevec was said to lack novelty because it was just a different salt form with no improved therapeutic efficacy of an already existing patent. (a term called EVERGREENING of patents)
http://en.wikipedia.org/wiki/Imatinib
2.  The six fundamental rights recognised by the constitution are:
1) Right to equality, including equality before law, prohibition of discrimination on grounds of religion, race, caste, sex or place of birth, and equality of opportunity in matters of employment, abolition of untouchability and abolition of titles.

2) Right to freedom which includes speech and expression, assembly, association or union or cooperatives, movement, residence, and right to practice any profession or occupation (some of these rights are subject to security of the State, friendly relations with foreign countries, public order, decency or morality), right to life and liberty, right to education, protection in respect to conviction in offences and protection against arrest and detention in certain cases.

3) Right against exploitation, prohibiting all forms of forced labour, child labour and traffic in human beings;

4) Right to freedom of religion, including freedom of conscience and free profession, practice, and propagation of religion, freedom to manage religious affairs, freedom from certain taxes and freedom from religious instructions in certain educational institutes.

5) Cultural and Educational rights preserving Right of any section of citizens to conserve their culture, language or script, and right of minorities to establish and administer educational institutions of their choice; and

6) Right to constitutional remedies for enforcement of Fundamental Rights.
http://en.wikipedia.org/wiki/Fundamental_Rights_in_India#Right_To_Education
3. Lipitor, is trade name of the calcium salt of  Atorvastatin  marketed by Pfizer . It is a member of the drug class known as statins, used for lowering blood cholesterol. Generic atorvastatin, manufactured by generic drugmakers Watson Pharmaceuticals and India'sRanbaxy Laboratories, began being available in the United States on November 30, 2011 and are going to be cheaper than Lipitor.
http://en.wikipedia.org/wiki/Atorvastatin
4. Pharmaceutical patents in India are granted as PRODUCT patents as per Indian Patent Law of 2005. earlier they were granted process patents.However Until 2005, Indian law recognized only process patents for making pharmaceutical products—and not the actual products.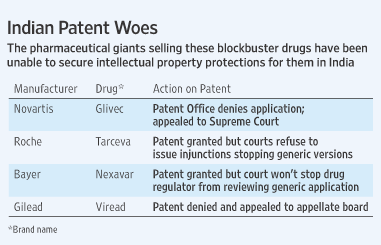 http://online.wsj.com/article/SB10001424052748703455804575057621354459804.html
5. Dr. Margaret Chan