Here we provide DETAILS OF VACANCIES AT A GLANCE from Government of India Ministry of Railways.
RAILWAY RECRUITMENT BOARDS are calling the Indian citizens for RECRUITMENT OF PARAMEDICAL CATEGORIES in different places of the country. Here in the below table we provide details like Name of the post Level as per 7th CPC, Initial Pay (Rs.), Medical standard along with the total number of Vacancies. A total number of 1937 posts are released by central government. You can check which suits for you and the ones you are eligible to decide and apply for these posts.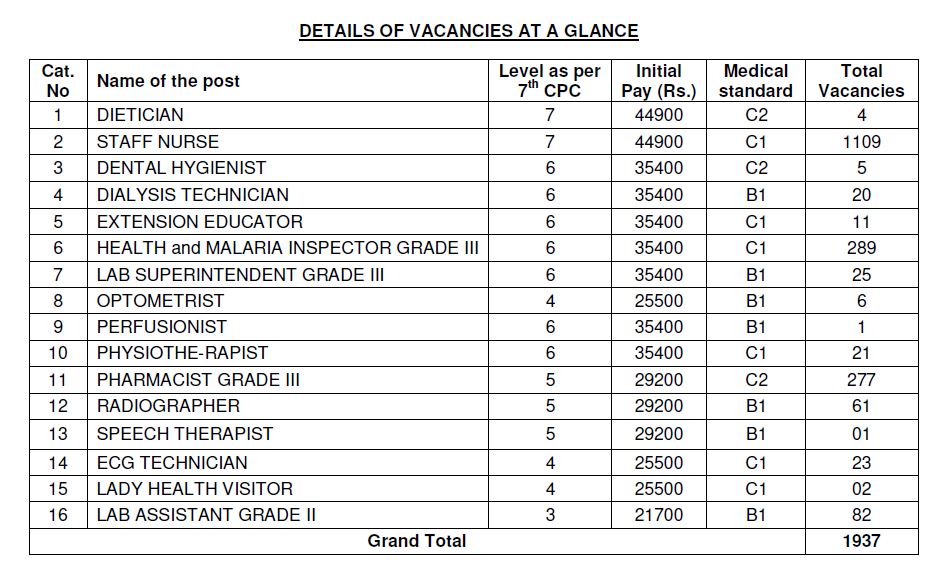 DIETICIAN will have the pay scale of  44900 and number of posts are 4 in number.  STAFF NURSE pay scale will be  44900 and has 1109 posts. DENTAL HYGIENIST pay scale will be 35400 and  DIALYSIS TECHNICIAN pay scale will be 35400 and has 20 posts centrally. EXTENSION EDUCATOR pay scale will be 35400 and there are 11 positions centrally. HEALTH and MALARIA INSPECTOR GRADE III pay scale will be 35400 with 289 posts national wide.
LAB SUPERINTENDENT GRADE III pay scale  will be 35400 and has 25 post.  OPTOMETRIST pay scale will be 25500 and PERFUSIONIST 35400 pay scale will be but only one post is released. PHYSIOTHE-RAPIST pay scale will be 35400 and has 21 posts. PHARMACIST GRADE III 5 29200 pay scale, RADIOGRAPHER  29200 , SPEECH THERAPIST 29200 , ECG TECHNICIAN 4 25500 , LADY HEALTH VISITOR  25500 LAB ASSISTANT GRADE II pay scale 21700.
1 DIETICIAN 7 44900 C2 4
2 STAFF NURSE 7 44900 C1 1109
3 DENTAL HYGIENIST 6 35400 C2 5
4 DIALYSIS TECHNICIAN 6 35400 B1 20
5 EXTENSION EDUCATOR 6 35400 C1 11
6 HEALTH and MALARIA INSPECTOR GRADE III 6 35400 C1 289
7 LAB SUPERINTENDENT GRADE III 6 35400 B1 25
8 OPTOMETRIST 4 25500 B1 6
9 PERFUSIONIST 6 35400 B1 1
10 PHYSIOTHE-RAPIST 6 35400 C1 21
11 PHARMACIST GRADE III 5 29200 C2 277
12 RADIOGRAPHER 5 29200 B1 61
13 SPEECH THERAPIST 5 29200 B1 01
14 ECG TECHNICIAN 4 25500 C1 23
15 LADY HEALTH VISITOR 4 25500 C1 02
16 LAB ASSISTANT GRADE II 3 21700 B1 82
Grand Total 1937
Conclusion Note:
Beware of touts and job racketeers trying to deceive by false promises of securing job in Railways either through influence or by use of unfair and unethical means.

RRB has not appointed any agent(s) or coaching center(s) for action on its behalf. Candidates are warned against any such claims being made by persons/agencies.

Candidates are selected purely as per merit. Beware of unscrupulous elements and do not fall in their trap.

Candidates attempting to influence RRB directly or indirectly shall be disqualified and legal action can be initiated against them.

Candidates are advised to visit only the official website of RRBs and beware of FAKE websites put up by unscrupulous elements/touts.
If you really want to crack a job in RRB you have to work hard and grab for you. All the best Aspirants.