Dry granulation is a powder agglomeration process used in the pharmaceutical industry to improve the flowability of powders by increasing the particle size (granules). This operation is achieved using a roller press, which can have different configurations and equipment designs.
In simple terms Granulation is the process in which primary powder particles are made to adhere to form larger multiparticle entities called granules.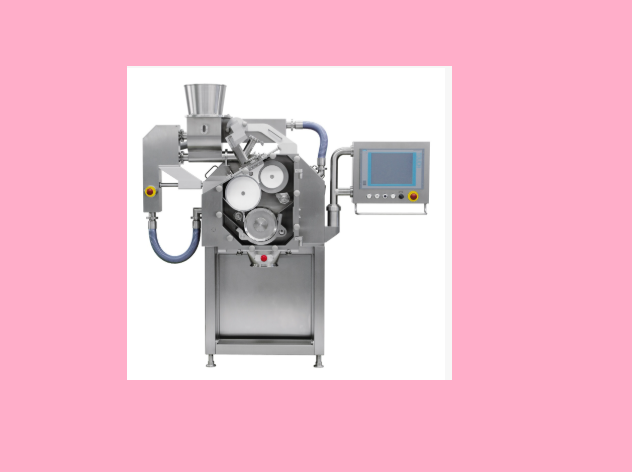 Dry Granulation Advantages & Limitations:
(Slugging of rollercompaction)
Advantages:
* Eliminates exposure to moisture and drying.
* Dusty procedure.
This is also called double compression or slugging method, this is valuable alternative to direct compression,
where the dose of drug is too high or to wet granulation when the drug is sensitive to heat, moisture or both.
This method is also used when other methods of granulation yield granules with poor flow or compression
properties, because there are less chances of segregation of drug and excipients.
Limitations:
* Not suitable for all compounds.
* Slow process.
Long processing time, a relatively high capital investment on heavy duty presses or compactors.
Steps involved in dry granulation process
I. Milling of drugs and excipients
II. Mixing of milled powders
III. Compression into large, hard tablets to make slug
IV. Screening of slugs
V. Mixing with lubricant and disintegrating agent
VI. Tablet compression
In dry granulation method the primary powder particles are aggregated at high pressure. There are two main processes – either a large tablet (known as slug) is produced in a heavy duty tableting press( known as slugging) or the powder is squeezed between two rollers to produce a sheet of material (roller compaction) . The two different types are illustrated in below:
Slugging process
how well a material may slug will depend on the below terms
Compressibility or cohesiveness of the matter,
Compression ratio of powder
Density of the powder
Machine type
Punch and die size
Slug thickness
Speed of compression
Pressure used to produce slug
Granulation by slugging is the process of compressing dry powder of tablet formulation with tablet press having die cavity large enough in diameter to fill quickly. The accuracy or condition of slug is not too important. Only sufficient pressure to compact the powder into uniform slugs should be used. Once slugs are produced they are reduced to appropriate granule size for final compression by screening and milling
Slugging (Old Method)Slugging (Old Method) • material to be granulized is first made into a large compressed mass or "slug" typically by way of a tablet press using large flat-faced too long.
Disadvantages of Slugging:
single batch processing
frequent maintenance changeover
poor process control
poor economies of scale
low manufacturing output per hour
excessive air and sound pollution,
Increased use of storage containers,
more energy and time required to produce
Roller compaction:
In a roller compactor material particles are consolidated and densified by passing the material between two high-pressure rollers. The densified material from a roller compactor is then reduced to a uniform granule size by milling.
Roller compaction dry granulation process is capable of handling a large amount of material in a short period of time. As a special subtype briquetting utilizes special designed compaction rolls which divides the compacted powder in pieces (briquettes).
For dry granulation the compaction force in extend and uniformity of distribution is essential in regard to uniformity of granules porosity to ensure uniform hardness and disintegration of the final product. Because of its advantages, roll compaction is being increasingly used as a granulation technique, but it is not a simple process and may involve many variables for example roll pressure, roll speed, horizontal/vertical feed screw speed, roller gap, screen size. These parameters need to be optimized depending on the materials and the type of equipment used in order to obtain products of desirable quality.
Pneumatic Dry Granulation:
The pneumatic dry granulation process is a new and patent pending technology. The granulation process is based on the
use of roller compaction with very low compaction force together with a proprietary air classification method. The method enables production of granules with extraordinary combination of flow ability and compressibility. The granules produced by Pneumatic Dry Granulation and tablets produced show fast disintegration properties, offering the potential for fast
release dosage forms, and Release time can be tailored to requirements.
PDG technology can achieve, high drug loading, even with difficult APIs and combinations along with Taste masking and Excellent stability
References:
Ankit Sharma, Pooja sethi, Dinesh pawar. "Granulation techniques and innovations", Inventi Rapid: Pharmtech, Vol.10, 2011
Himanshu.K.Solanki, Tarashankar Basuri, Jalaram H.Thakkar, "Recent advances in granulation technology, International Journal of Pharmaceutical Sciences Review and Research, 3(5), 48,2010 . 11.
Nidhi Prakash Sapkal, Vaishali A. Kilor, Minal Nandkumar Bonde. Application of a convenient and cost and effective granulation technology for the formulation of tablets using conventional excipients, Asian Journal of Pharmaceutics – 225-254, 2014.
Rudnic EM, Schwartz JD. Oral solid dosage forms In: Remington: The science and practice of pharmacy Gennaro, Lippincott Williams and Wilkins, USA, 2000: 858.
Gohel MC. A review of co-processed directly compressible excipients. J Pharm Pharmaceut Sci 2005; 8: 76-93.
Schwartz JB, Fonner DE, Anderson NR, Banker GS. Granulation and tablet characteristics, Lieberman HA, Lachman L, eds. Pharmaceutical Dosage Forms: Tablets. Vol. 2, New York, Marcel Dekker, 1981:201.