The typical process that is followed in an analytical method validation is chronologically listed below:
1. Planning and deciding on the method validation experiments

2. Writing and approval of method validation protocol

3. Execution of the method validation protocol

4. Analysis of the method validation data

5. Reporting the analytical method validation

6. Finalizing the analytical method procedure
The method validation experiments should be well planned and laid out to ensure efficient use of time and resources during execution of the method validation. The best way to ensure a well – planned validation study is to write a method validation protocol that will be reviewed and signed by the appropriate person (e.g., laboratory management and quality assurance). The validation parameters that will be evaluated will depend on the type of method to be validated. Analytical methods that are commonly validated can be classified into three main categories: identification, testing for impurities, and assay.
Table below lists the ICH recommendations for each of these methods. Execution of the method validation protocol should be carefully planned to optimize the resources and time required to complete the full validation study. For example, in the validation of an assay method, linearity and accuracy may be validated at the same time as both experiments can use the same standard solutions.
A normal validation protocol should contain the following contents at a minimum:
(a) Objective of the protocol

(b) Validation parameters that will be evaluated

(c) Acceptance criteria for all the validation parameters evaluated

(d) Details of the experiments to be performed

(e) Draft analytical procedure
The data from the method validation data should be analyzed as the data are obtained and processed to ensure a smooth flow of information. If an experimental error is detected, it should be resolved as soon as possible to reduce any impact it may have on later experiments. Analysis of the data includes visual examination of the numerical values of the data and chromatograms followed by statistical treatment of the data if required.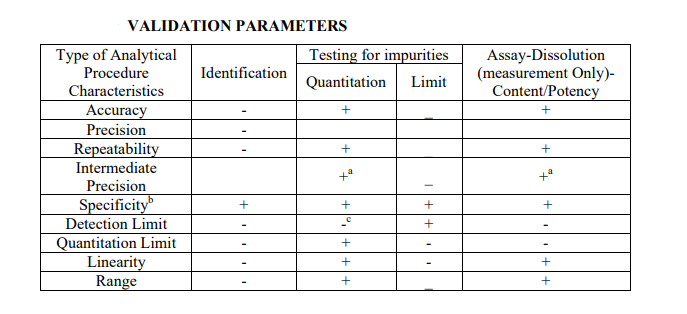 Note: −, characteristic not normally evaluated; +, characteristic normally evaluated. a In cases where reproducibility has been performed, intermediate precision is not needed. b Lack of specificity of one analytical procedure could be compensated by other supporting analytical procedure(s). c May be needed in some cases.