Pharmacist Jobs:
Pharmacists are trusted persons whom patients and healthcare professionals consult. They have access to confidential information about patients. Naturally, they need to be persons who can be trusted to behave ethically and considerately. There are more pharmacist jobs going round than pharmacists, an excellent scenario for job seekers. So how do you tap into this job market?
What are Different Kinds of Pharmacist Jobs
Pharmacists work as retail pharmacists, clinical pharmacists, IV pharmacists, pharmacy managers, drug research scientists and so on. When dealing with the public, they have to be more than just medicine dispensers. They have to provide advice on the correct usage of the medicines. They might also be called upon to consult with healthcare professionals. Pharmacists thus need an ethical attitude and good communications skills in addition to technical know-how.
Pharmacists are needed wherever medicines are prepared or dispensed. Even storage of medicines should be under their supervision. The pharmacist is trained to dispense the correct dosages of medicines meeting the correct standards of purity. Non-pharmacists can make incorrect decisions on these matters, leading to serious health consequences, including danger to life. Pharmacists stores, prepares and dispenses medicines. All the below establishments will thus need the services of qualified pharmacists.
Retail Chemists selling prescription and over the counter drugs to the public

Hospitals and Clinics dispensing medicines to their patients

Healthcare and infusion facilities providing medication services at home or nursing homes

Government and community centers offering healthcare and medication services

Armed services that have their own medical departments and services
Pharmacists are also needed to research and develop drugs for pharmaceutical companies, and in their sales and marketing departments. Thus the pharmaceutical manufacturers are a major employer of pharmacists.
How to get into Pharmacy?
It requires years of training to become a licensed pharmacist.
You start with about two years of study at college level in chemistry, biology, physics and other science subjects. Even after this study, you might be required to take a Pharmacy Colleges Admissions Test before you are accepted into a college of pharmacy.
Pharmacy colleges typically offer 6 year and 5 year curriculum equipping the pharmacist in formulating, preparing and dispensing medicines, as well as in other areas such as professional ethics, communicating with patients and healthcare professionals and managing a pharmacy practice.
Before obtaining the license to practice, the pharmacist will also have to undergo internship under a licensed pharmacist, and pass a state examination.
Becoming a pharmacist is thus a painstaking process, and it is no wonder that there are more pharmacist jobs going round than pharmacists seeking jobs!
The pharmacist jobs also require you to be available 24 hours a day, 365 days a year. Illnesses requiring medication do not go home after "duty hours" (much as we might wish them to do)!
If you meet the bill, pharmacist jobs will come looking for you!
Lets have a look at PHARMA JOBS
WALK-IN DRIVE on 03rd September 17 @ CLARIS INJECTABLES LTD.




Date: 03rd September, 2017 (Sunday)

Time – 9.30 AM to 05:00 PM

We have following opening at our plant based at Ahmedabad.




Executive / Officer (Quality Control) – M.Sc / B.Pharm. / B.Sc. with 3 to 8 yrs. Analytical or review experience of, HPLC, GC, UV, LCMS, GCMS, IR, KF, and other Analytical Instruments and RM/PM sampling activities.




Manager / Executive / Officer (Engineering) – B.E. / B.Tech. (Mechanical /Electrical) with 3 to 10 yrs. working experience in Plant maintenance activities in regulatory sterile manufacturing unit. (Experience of Parenteral doses form is must)




Manager (Engineering – Packing) -B.E. / B.Tech. (Mechanical/Electrical) with 7 to 10 yrs. working experience in maintenance of Injectable packing machines and Visual Inspection in regulatory sterile manufacturing unit.




Executive / Officer (Microbiology) – M.Sc. / B.Sc. (Micro) 3 to 8 year of working experience in microbiological testings and review like Environment Monitoring, BET, Sterility, MLT, Water System, and Micro Validation.




Executive/Officer (Sterile IPQA) – M.Pharm. /B.Pharm./M.Sc. with 3 to 8 yrs. working experience in Process & Packing Verification-Dispensing, Mixing, Filtration, Filling, Sterilization & packing, Parameters of Sterilizer, finished product sampling etc. Basic Knowledge of QMS activities.( Experience of Parenteral doses form is must)




Officer (Civil Billing Assistant)- B.Com with 3 to 5 years of working experience in commercial billing provision. Issue & post bills, receipt and invoices.


Interested candidate can walk-in at following venue with their updated C.V., passport size photograph, Latest Salary Slip and all original mark sheets. Candidate unable to attend the walk-in can e-mail their updated C.V. [email protected]


Venue: –




Claris corporate headquarters,




Near Parimal railway crossing,




Ellisbridge,




Ahmedabad-380006
2.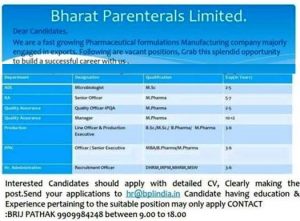 Recruitment in pharmacy
Qlf : B.sc,M.sc,B.pharma
Salary : 10k -12k
Only freshers
Location : Parawada,Visakhapatnam
Interested people can contact 7207333027 / 9666696318
You can forward your resume [email protected]
Need surgery coders in Chennai location
Experience: 2yrs- 5 yrs
CPC/non CPC
Direct walk-in
Easy selection, spot offer
Ring me @9962235087 Muthu Hr/ Wts ap 9444513354
Interested candidates kindly forward ur CV [email protected]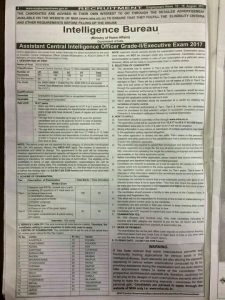 What are pharmacy jobs? Where are these jobs available? How do you qualify for these jobs? This article seeks to answer these questions. In the USA, there are more pharmacy jobs than qualified pharmacists. It is thus a good career option.
Pharmacy Jobs
Medicines can be prepared and dispensed only by qualified pharmacists. In olden times, they used to mix drug products from measured raw materials according to doctor's prescriptions. These days, they dispense pre-measured tablets and capsules produced by pharmaceutical companies. They also advise patients on the use of prescription and over the counter medicines.
In addition to technical knowledge about the required purity and dosages of many medicinal products, pharmacists also require the human touch and ethical sense to deal with customers in a trust-building manner.
Pharmacists find jobs in numerous settings, such as retail pharmacy outlets, hospitals & clinics, healthcare facilities, drug research and development, pharmaceutical sales and marketing, government agencies and universities.
Pharmacists work as pharmacy managers, clinical pharmacists, IV pharmacists, retail pharmacists and in other roles.
Who Employ Pharmacists?
Some of the major employers of pharmacists are listed below.
Retail (and Internet) pharmacies need pharmacists and pharmacy managers.
Pharmaceutical companies need pharmacists for drug research & development, and for sales and marketing.
Hospitals, clinics and healthcare facilities need pharmacists to oversee the formulation, storage and dispensing of medicines at their facilities.
Government agencies and home care facilities also need the services of pharmacists.
Armed services need pharmacists in their medical services sections.
Community and consultant pharmacies are other agencies that need pharmacists.
The demand for pharmacists exceeds supply in the USA.
How Do You Qualify as a Pharmacist?
Pharmacy is the science that deals with collection, preparation and standardization of drugs.
As a preliminary for your course in pharmacy, you need to attend college level classes in such subjects as chemistry, biology, physics and mathematics, for about two years. You might also have to pass a Pharmacy Colleges Admissions Test.
You then have to complete a 6-year (or 5 year) Pharm D. (or B.S.) curriculum prescribed by an accredited college of pharmacy. Internship under a qualified pharmacist and passing a state examination are other typical requirements before you become a licensed pharmacist.
Continuing education is a typical requirement to renew the license.
The skills in pharmacy practice include not only dispensing prescriptions but also communicating with patients and healthcare professionals. (You need to acquire the skill to read doctors' handwritings!) They also include understanding the responsibilities of professional ethics.
Other important skills include the management of a pharmacy practice, and consulting with other healthcare professionals.
Availability of Pharmacy Jobs
As you would have begun to appreciate by now, pharmacists are trained professionals providing an essential service in healthcare. They are in high demand by many agencies and this situation is likely to continue.
In fact, all the pharmacy jobs are not being filled now for want for qualified pharmacists. A career in pharmacy is thus a promising career.